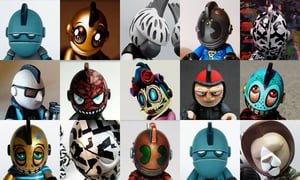 $

70.00
Release Date: November 21st, 5pm NYC, 7am Melbourne, 11pm Netherlands
Price: $70 Each
Description: Custom 'Bots awesomeness.
Remember this is a blind box you do not know which you will get until they arrive!
The artists on Team NEW are as follows:
- JAR
- Color Chemist
- Nugglife
- RunDMB
- Charles Rodriguez
- MaloApril
- Squink!
- Wheelbarrow
- El Hooligan
- Stuart Witter
Best of luck and onwards to victory!!!